Today is a great day for code security! GitGuardian has just launched on the GitHub Marketplace, and to top it all off, we are ranked 1st in the Security Category.
We are thankful to the 100k+ developers who use GitGuardian to secure their GitHub repositories. We would not be here today without the support and trust of each and every one of you.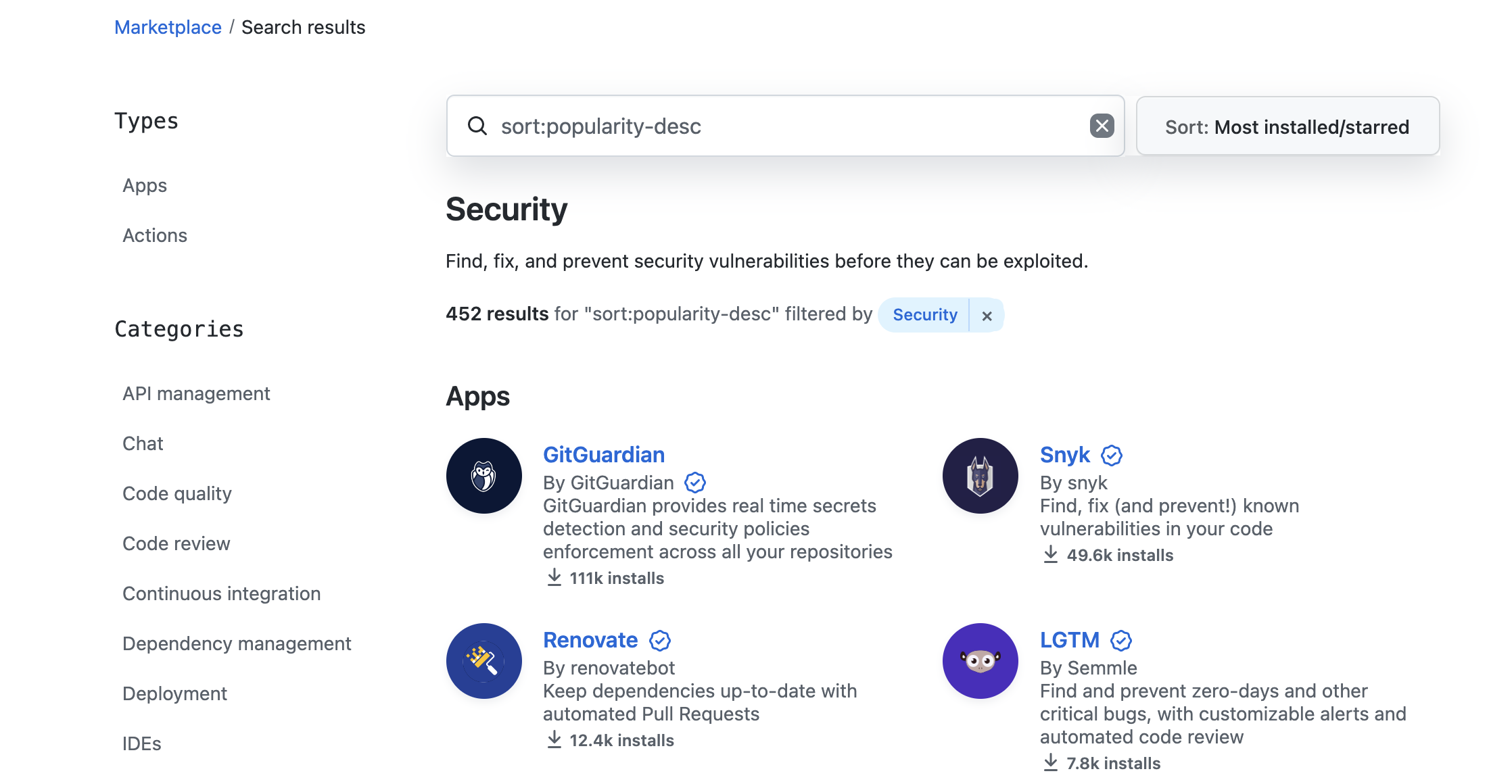 With this deep integration, we are hoping more developers will find it easier to connect GitGuardian to their GitHub accounts and monitor their repositories for hardcoded credentials.
GitGuardian App overview and pricing
After installation, the GitGuardian App will automatically scan any new commits pushed to selected repositories for leaked credentials and secrets. It will also run a historical scan, on all commits made prior to its installation, to detect any past leaks and give users a full overview of their repositories' health.
We are committed to helping developers, ops and security professionals around the world secure their source code. GitGuardian for Internal Repositories Monitoring is:
Available for free for individual developers or Open Source projects,
Available for free for teams of 25 developers or less.
For more information on our pricing plans, please visit gitguardian.com/pricing.
How to get started
GitHub Marketplace provides a standardized way to sign up for your favorite tools in the GitHub ecosystem. To get started, go to github.com/marketplace/gitguardian or navigate to GitHub Marketplace using the "Marketplace" link on your GitHub navigation bar. There, you will find GitGuardian under the Security Category. The listing provides a short description of the application, a few screenshots of the dashboard and our pricing plans.
Scroll down to the Pricing and Setup section to get started.

Click on Install it for free, GitHub will prompt you to confirm purchase through your existing GitHub account. When the process is complete, you will be asked to authorize GitGuardian to access your GitHub profile with OAuth. Finally, you will be directed to your GitGuardian account page, welcome on board!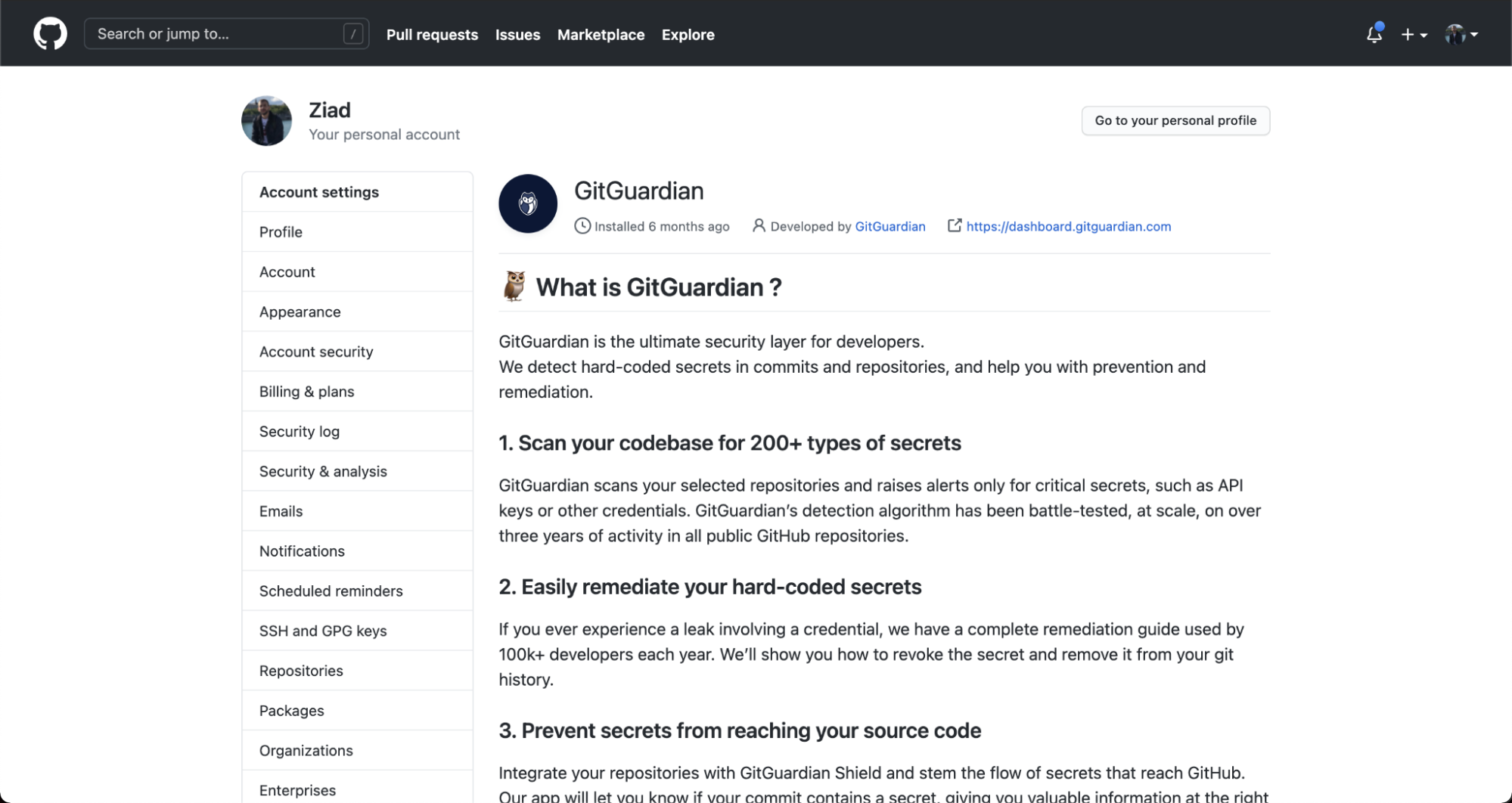 Now that you have everything setup, go to dashboard.gitguardian.com and follow the product walkthrough to scan for, discover and remediate incidents.
Do you have any questions on GitGuardian, our product, pricing plans or anything else? Send us an email at contact@gitguardian.com.
Sign up to GitGuardian with GitHub
About GitHub Marketplace
GitHub Marketplace is GitHub's platform for developers to find and purchase applications that can be used throughout the development process. It contains tools that add functionality and improve workflow. For more information, visit github.com/marketplace.
About GitGuardian
Guardian is a cybersecurity startup solving the issue of secrets sprawling through source code, a widespread problem that leads to credentials ending up in compromised places or even in the public space. The company solves this issue by automating secrets detection for Application Security and Data Loss Prevention purposes. GitGuardian helps developers, ops, security and compliance professionals secure software development, define and enforce policies consistently and globally across all their systems.
GitGuardian solutions monitor public and private git repositories in real-time, detect secrets and alert to allow investigation and quick remediation.
---